Donation for a good cause
Lohmann donates to the Landesbühne Rheinland-Pfalz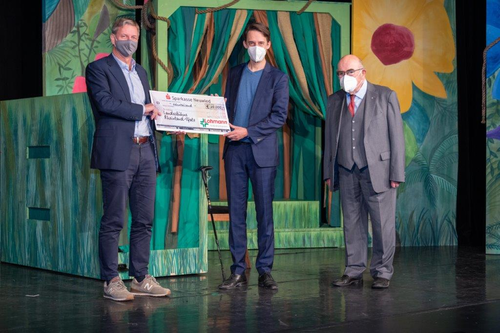 Despite the current situation, the Landesbühne Rheinland-Pfalz will hold on to the opening of a special stage for children and young people.
The Neuwied adhesive tape manufacturer Lohmann supports the traditional stage with a generous donation of EUR 10,000. In doing so, Lohmann is making an important contribution to securing the cultural work of the Landesbühne Rheinland-Pfalz even after the current lockdown. On December 3, Managing Partner Dr. Jörg Pohlman presented a donation cheque to Director Lajos Wenzel on behalf of the entire team. "We feel connected to the people of our region and therefore want to support the Schlosstheater as a central pillar in the cultural life of Neuwied. Only together can we strengthen our region and overcome the crisis", emphasizes Dr. Jörg Pohlman.
Dr. Peter Barth, former Managing Director and long-time shareholder of Lohmann, founded the Schlosstheater Neuwied Foundation back in 1975 and has been involved in the theatre as Managing Director ever since. "We have experienced many turbulent times with our theatre. I am very pleased to see how much commitment the stage is showing and how much it is supported from all sides", says Dr. Peter Barth, for whom the Schlosstheater Neuwied is a matter of the heart. "Especially at this time, we realize how much we miss personal encounters and artistic impulses. We are all very much looking forward to the theatre reopening soon."
Director Lajos Wenzel adds, "Neuwied loves his theatre. This is something we are constantly being told, especially during this special time. The fact that Lohmann is so close at our side makes me very happy."
Money goes into the construction of the Children's and Youth Theatre
The donations are intended to fulfil an important social purpose, as the amount will be used primarily for the new JUSCH (Young Schlosstheater) of the Landesbühne Rheinland-Pfalz. Dr. Jörg Pohlman affirms that "cultural work for children and young people is very important to us. We are happy to support the fact that the stage wants to expand its commitment to families." Director Lajos Wenzel is sure that "with the small studio stage in the JUSCH, Neuwied will be given a unique place for innovative, modern children's theatre."
During a guided tour of the JUSCH, the Board of Trustees Dr. Peter Barth and CEO Dr. Jörg Pohlman were able to get an impression of the state of completion. "The theatre does everything for an absolutely safe environment. With a completely new ventilation system, 100% fresh air supply and the latest technology, nothing stands in the way of a safe theatre visit."