"Our Responsibility": Lohmann Neuwied supports the common good with donations and new sponsoring measures.
Under the motto "Our Responsibility", the Neuwied-based adhesive tape manufacturer is extending its commitment beyond the boundaries of the company.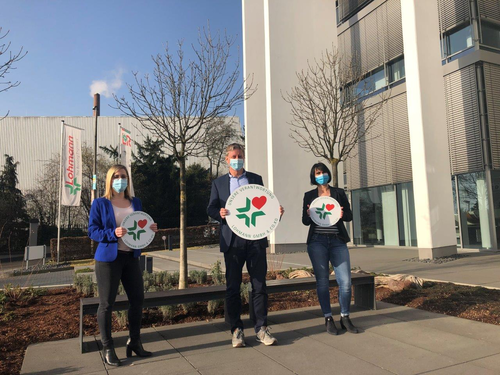 To this end, social sponsoring was created six months ago, with which the company aims to provide financial support to organizations in the region. "We want to be there for our employees as well as for the people in our region. Solidarity is very close to our hearts – especially at this time," says Lohmann's Managing Partner Dr. Jörg Pohlman.
In order to meet this demand, "Social Sponsoring" was launched at Lohmann. This covers individual measures, events, charitable institutions as well as associations with cultural, social, sporting or scientific connections. "Last year, we started with projects in Feldkirchen, where we are based, and in the Neuwied districts," explains Katharina Kunke, who is responsible for social sponsoring. "There, we managed to do a lot of good in a short time." For example, 15,000 euros have already flowed into the area of sports and over 20,000 euros into the area of culture. The company has entered into several sporting partnerships, for example with the Deichstadtvolleys, the Heimatsportverein Neuwied (HSV), the SV Feldkirchen and the TV Feldkirchen. Donations of 10,000 euros each were also made to the Neuwied Zoo and the municipal theater. "We see the donations to the zoo and the theater as the start of a sustainable and long-term cooperation. For 170 years already, it has been part of our corporate philosophy to assume social and, above all, sustainable responsibility," says Petra Daun, also responsible for social sponsoring. Over the past decades, there have been numerous large and small fundraising campaigns around the world, such as the one following the earthquake in Haiti in 2010 or the donation of 1,000 liters of disinfectant to the district of Neuwied
In the future, the company would like to expand its support radius and at the same time provide more intensive support to targeted charitable institutions. "The Corona crisis has hit many social institutions and people hard. That's why support is needed now more than ever," continues Dr. Pohlman.