Lohmann: Five years of support for "Esmeralda" and employee fundraising campaign
Neuwied-based company takes on second animal sponsorship - staff donate generously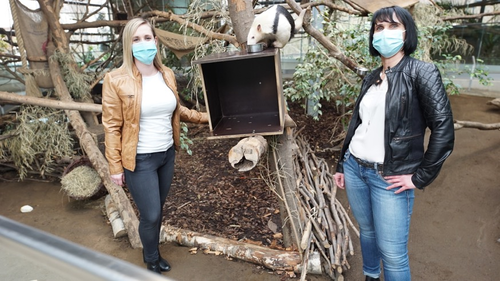 As part of its social sponsorship campaign, Lohmann has been involved with Neuwied Zoo since January. After a donation of 10,000 EUR and the start of a five-year animal sponsorship deal for anteater Bramble, the team at the traditional Feldkirchen-based company was so impressed they went one better. The employees supported the zoo with a further EUR 1,800 in a fundraising campaign that was set up especially for this purpose. Impressed by so much commitment from their own ranks, the management quickly topped up this amount to EUR 4,000. And something else emerged for anteater lady Esmeralda: another animal sponsorship. No wonder, since "bonding technology" is something they have in common, so to speak. In keeping with good Lohmann tradition, the commitment to the popular zoo is long-term. .
Neuwied, 25.03.2021. The main protagonist duly noted the cheque for 10,000 EUR, which Lohmann CEO Dr. Jörg Pohlman handed over to zoo director Mirko Thiel on 13 January 2021, with an air of disinterest. We're talking about Bramble, the giant anteater. Although he had acquired a five-year sponsorship deal from the Neuwied-Feldkirchen bonding specialists, he ignored the spectacle, which was an unusual occasion during the coronavirus pandemic. However, the Lohmann employees were somewhat more impressed than Bramble. Without further ado, they decided to hold their own fundraiser to sponsor another anteater called Esmeralda.
Employees donate 1,800 EUR out of their own pockets, rounded up by the management
Enthused by the previous commitment to the Neuwied Zoo, the staff wanted to set an example: "Our employees set up their own fundraising campaign and donated EUR 1,800 from their own pockets," reports Petra Daun, Communication Manager at Lohmann. Overwhelmed by the team's willingness to donate, the management rounded up the amount to a total of EUR 4,000 without further ado. "Almost every one of our employees has visited Neuwied Zoo at one time or another, and we are proud to have played an important part in securing the zoo's future," says CEO Dr. Jörg Pohlman happily.
One becomes two: Animal sponsorship for anteater lady Esmeralda
Not only the zoo's box office is pleased about Lohmann's commitment, which, as is customary in the company's tradition, is designed for the long term. What could be more fitting than a second animal sponsorship. In the spirit of equality, this time for a lady. Esmeralda is a small anteater and, like her larger counterpart Bramble, she's all about ants and termites. "In the wild, they slurp them out of the anthills with their sticky tongues," explains zoo director and animal expert Mirko Thiel. In other words, anteaters are also real glue experts. So, it almost goes without saying that we want to support two of our "colleagues". As part of the sponsorship, Lohmann will contribute to the costs of feeding, housing and caring for the animals for five years.
Supporting Neuwied Zoo as an important part of the region's culture/strong>
As a company, Lohmann stands for a 170-year tradition of assuming social and sustainable responsibility. "Part of that is supporting regional culture, especially in difficult times. And Neuwied Zoo is undoubtedly an important part of this," says Dr. Jörg Pohlman. Apparently, many others see it the same way: after all, a total of more than 250,000 EUR in donations from private individuals and companies came together for the popular zoo. "For the moment, our zoo is safe," says director Mirko Thiel happily. And Lohmann is proud to have contributed to this.