Lohmann Remscheid assumes a sponsorship worth EUR 3,000 per year for the famous elephant girl Tuffi
Immense delight at the Wuppertal Zoo and with the young elephant with the famous name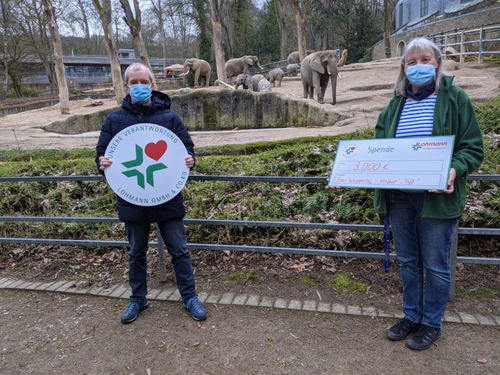 In addition to the head office in Neuwied, also at the Remscheid location with its "Die-cutting Competence Center", Lohmann GmbH & Co. KG takes pleasure in undertaking long-term commitments. What could be more obvious than a sponsorship for a famous pachyderm? Elephant girl Tuffi is the star of the Wuppertal Zoo. This is mainly due to her name, which automatically makes people in Wuppertal prick up their ears.
Remscheid, March 31, 2021. "Whenever elephant girl Tuffi is in the outdoor enclosure, large crowds usually gatherr", says Dr. Arne Lawrenz, director of the Wuppertal Zoo. This is of course different in lockdown times. Nevertheless, there is reason to be happy: The Remscheid branch of Lohmann GmbH & Co. KG in Neuwied has assumed a sponsorship for Tuffi and supports the zoo with a sum of 3,000 EUR per year. "According to the good old company tradition, we particularly enjoy committing ourselves in long-term and sustainable projects", says Lohmann Managing Director Dr. Jörg Pohlman, "Especially when they have such a historical background".
Tuffi: Namesake of what is probably the most famous elephant in Wuppertal
Tuffi was born in 2016 in the Wuppertal Zoo. The name brings back memories of July 21, 1950. As an advertising campaign for the Althoff circus, the elephant Tuffi rode the famous Wuppertal suspension railway with several companions. "Suddenly Tuffi jumped out of the moving train and fell into the river Wupper", reports Monika Zimmer, who works at the zoo. That is why "today's" Tuffi is so famous. "Sponsoring an animal is naturally a special honor", says Wolfram Doll from Lohmann Remscheid. Incidentally, there was also a happy end in 1950: Miraculously, Tuffi remained unharmed.