Long-term sponsorship launched: Lohmann Remscheid with a very sporty commitment to the roller sports club IGR Remscheid e. V.
The Bundesliga roller hockey team from Remscheid can be pleased about receiving support from the local adhesive technology company Lohmann.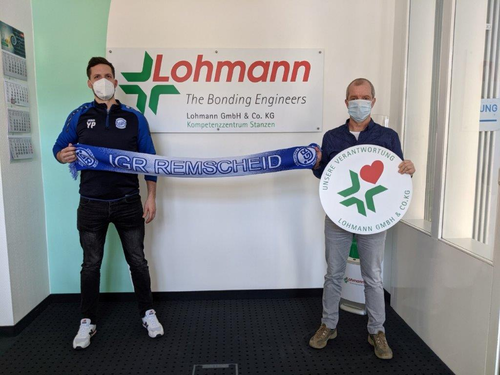 For the mid-sized company Lohmann GmbH & Co. KG, the motto "Commitment for our home" is at the top of the agenda. This applies to both the headquarters in Neuwied and the Remscheid site. Here, the adhesive specialists started their first sports sponsorship. Namely, for the roller hockey Bundesliga club IGR Remscheid.
Remscheid, May 17, 2021. "It's a good feeling to be able to welcome real Bundesliga players on our premises", exclaims Wolfram Doll from Lohmann Remscheid. On May 5th, 2021, national roller hockey player and team captain Yannick Peinke as well as Georg Feldhoff, first chairman of the IGR Remscheid, were guests. And this on a special occasion: Because Lohmann in Remscheid is launching its first involvement in sport by supporting the club.
The center of sport
"Making sport more present and visible in Remscheid is best achieved together", says Georg Feldhoff happily. Another goal of the partnership: To develop the venue for professionals, the Hackenberg sports hall, into becoming the center of sport in Remscheid. "Our aim is also to host a European Championship here by 2025 at the latest", adds professional sportsman Yannick Peinke.
Reason enough to invest now in the next generation. "Lohmann is fitting our junior team out with jerseys with the Lohmann logo on the chest", reports Georg Feldhoff. Moreover in the future, Lohmann will also become more visible at the IGR with aid of various banners. "And of course, by all means on the grandstands, because our employees are avid fans of the team", Doll adds.
Partnership even in difficult times
As a company deeply rooted in its home country, Lohmann focuses on solidarity and commitment towards regional partners even in these difficult times of the pandemic. "It goes without saying that we support this very likeable and successful club as a sponsor. We are really looking forward to celebrating joint successes in the future", exclaims Lohmann Managing Director Dr. Jörg Pohlman.