Integrative daycare center Neuwied: New climbing frame ceremoniously handed over
In front of the press, Lohmann Executive Management and daycare center Management, the "climbing break" came to an end.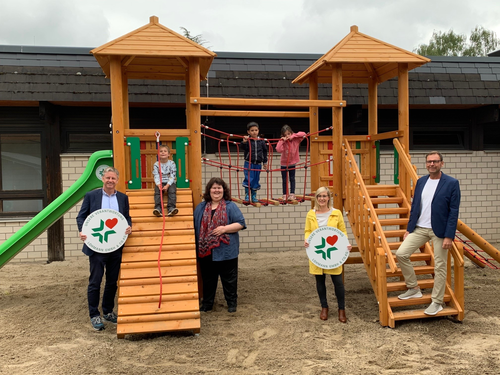 Last Thursday, 01.07.2021, the official handover of the new climbing frame took place at the integrative daycare center of Lebenshilfe Neuwied. The anticipation, but also the climbing-free time were long. "Accordingly, we are grateful to the Lohmann company for its generous commitment," said a delighted Frank Mehnert, Managing Director of Lebenshilfe Neuwied.
Lohmann donated 10,000 EUR for a new climbing park
The Neuwied-based adhesive specialist donated EUR 10,000 to the daycare center as part of a charitable lighthouse project, which was ultimately used to finance the new climbing frame. On 01.07.2021 the day had come. "It is simply wonderful to look into the beaming eyes of children. This reinforces our plan to continue our commitment to social and charitable projects in the region," reported Lohmann Managing Director Dr. Jörg Pohlman to the press representatives present.
Unique care concept
The daycare center belongs to Lebenshilfe Neuwied Förderzentrum gGmbH and cares for children with a wide range of disabilities, such as autism, epilepsy or speech disorders. Since 2016, the daycare center has been an integrative daycare center. This means that disabled and non-disabled children are cared for together. Inclusion is actively lived. Currently, the employees care for 32 children in three groups. In addition, necessary therapies are offered in-house for the children with impairments. In addition to general intensive care, occupational therapy, physiotherapy and speech therapy are available. Why a climbing frame is of high therapeutic importance is described by the Head of the daycare center, Simone Schumann: "When climbing, the children sharpen their senses, train their sense of balance and motor skills. This is important for every child, but our children often have to catch up on developmental steps. A climbing park is ideal here, because the child is challenged and encouraged "as a whole," so to speak, and also has the necessary physical exercise."
For the children the "climbing abstinence" is now over
Since 01.07.2021, the new climbing frame is now officially in the possession of the Integrative Kita Neuwied. Of course, the children took it into use during the press event. No wonder after such a long dry spell. "In that time, they simply played with sand, water and earth. Children are known to be excellent improvisation artists," says Simone Schumann. But there is no substitute for a real climbing frame.