The Reinshagener Turnerbund and Lohmann: A strong partnership for disabled sports
The Reinshagener Turnerbund (Gymnastics Association) is for the first time happy and proud to welcome a sponsor for disabled sports, namely, Lohmann.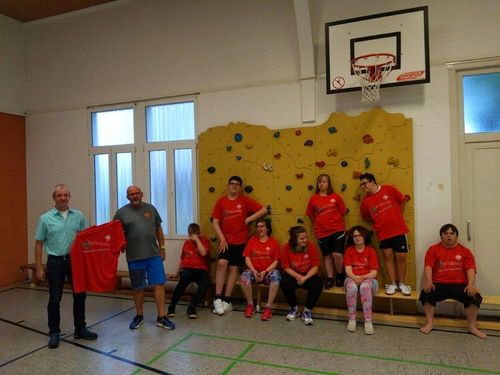 Funding for disabled sports - especially in these uncertain Corona times - is something special. But this does not stop the Lohmann Company, a global enterprise with its headquarters in Neuwied and subsidiaries worldwide, from doing a good deed for sport.
For twelve years now, the Reinshagener TB has offered sport for the disabled. Like a delicate plant that has grown steadily, this opportunity brings a large degree of normality back into the lives of young athletes with disabilities; exactly the normal life that athletes without a handicap have always been able to enjoy.
At the RTB, sport is in the meantime normality for people with disabilities
For people with disabilities, it is now taken for granted to take part in sports and report about their adventures in the club and at competitions the next day in school, to their friends or family.
At least in the region of the Bergisches Land, such an offer for disabled sports, as put into practice by the RTB, is unique. Every Tuesday, children, adolescents and young adults with all kinds of handicaps engage in sports together.
Further opportunities for sporting activities exist, for example integrative cycling and running courses. Both courses take place annually from April to October. Participation in competitions such as the "Roentgenlauf", one of the top cross-country runs in Germany, is also part of the repertoire of the popular sports club.
The goal is to have their own handicapped team
The Reinshagener TB is also ready to break new ground. In 2020, for example, they offered a hockey project for athletes with a handicap. This was very well received and was a complete success. Since hockey is the largest section in the Reinshagener TB, those responsible have an ambitious vision: one day, to integrate athletes with handicaps into the clubs' teams or even to establish an own handicapped team and to be able to offer special hockey in competitions and tournaments.
Lohmann's commitment fits perfectly with the spirit of optimism in the club
In this spirit of optimism, everyone is thrilled about the offer from Lohmann to support disabled sports at the RTB. Lohmann's commitment extends over the years 2021 and 2022. The handicapped athletes will be provided with clothing, shirts and hoodies that can be worn not only for club sport, but also for other sports meetings.
In addition, the association receives a budget from which entry fees for running events, such as participation in the "Roentgenlauf" run, can be paid. Lohmann and the Reinshagener TB: A great team and certainly a promising and trend-setting partnership for disabled sports.