Lohmann-koester takes over animal sponsorship at Hundshaupten Wildlife Park
In our article "Raffle for zoo entrance tickets at all three locations" we already reported that Lohmann-koester has also taken over an animal sponsorship.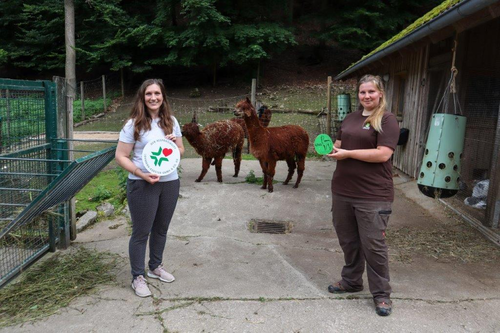 The decision was made quickly. The choice fell on an alpaca in the Hundshaupten Wildlife Park. On a 40-hectare site, the pakos have been living with about 40 native and rare animal species in the zoo since 2017..
Originating from the Andes, the furry noses have are very friendly and good-natured and famous for their fine, warm wool.
As at the other German sites, a sustainable and long-term cooperation is envisaged with the wildlife park. "We have only concluded the alpaca sponsorship for one year. However, we are planning a sponsorship for at least five years. Each year we can then choose a new animal," says Linda Schalyo, responsible for social sponsorship in Altendorf.
In addition to a sponsorship certificate, Lohmann-koester was presented with a sponsor wooden plaque, which was mounted on the sponsor wall in the Hundshaupten Wildlife Park.
We are already curious to see which sponsor animal the Altendorf colleagues will choose next year.